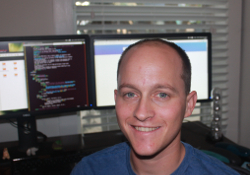 I am Kasimir Gabert, a PhD candidate in the Translational Data Analytics Lab at Georgia Tech, advised by Prof. Ümit V. Çatalyürek, and a Senior Member of Technical Staff at Sandia National Laboratories.
I participated in the Sandia Doctoral Studies Program fellowship. I received my Master's in Computer Science from Georgia Tech in 2013 and my Bachelor's in Computer Science and Mathematics from New Mexico Tech in 2011.
My research interests lie in high-performance large-scale graph analysis. Previously I worked on emulation-based modeling of computer systems.